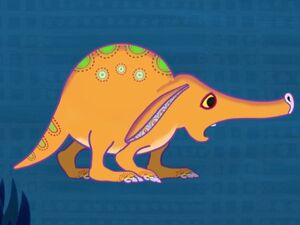 Aardvark is a nocturnal animal who lives in a burrow. He has a fond of honey and termites. His favourite friend is Mole.
Appearances
Season 1
Why Crocodile Has a Bumpy Back (first appearance, no lines)
Why Jackal Howls at the Moon
Why Vulture is Bald
Season 2
Why Hummingbird Hums (mentioned only)
Why Aardvark has a Sticky Tongue
Why Parrot Can't Keep his Secret
Why Bees Sting
Why Eagle Rules the Skies
Why Skunk Smells (No Lines)
Why Squirrel Gather Nuts
Why Meerkat is Always On Her Lookout
Why Cheetah has Tears (no lines)
Gallery
Community content is available under
CC-BY-SA
unless otherwise noted.