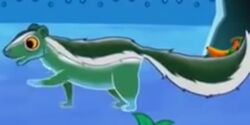 Skunk is a character introduced in Season 2 of Tinga Tinga Tales. He is a skunk whose smell is extremely smelly (which is considered awful by the animals.
Background
His food is smelly fruit (before he knew it was smelly). Skunk had really sweet smelling spray until he was fed smelly fruit. He then had stinky spray! Skunk is light green with dark green and white stripes. His sweet spray was pink, but his stinky spray is green. Skunk is shown to be old, about in his fifties.  Before he was fed smelly fruit, Skunk used to clean all of the animals in Tinga Tinga, using his tail as a brush and sweet spray as the finishing touch.
Gallery
Community content is available under
CC-BY-SA
unless otherwise noted.