Welcome to the Tinga Tinga Tales Wiki
Disney Junior and TVO Kids hit show Tinga Tinga Tales!
About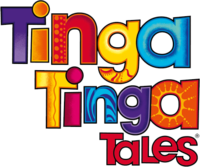 Tinga Tinga Tales is a Kenyan/British 52 episodes children's series based on African folk tales and aimed at 4- to 6-year olds. It was commissioned by the BBC for its CBeebies channel, and by Disney Channel for its Disney Junior block. Named after the Tingatinga art from Tanzania, it was made in Kenya by a studio of about 50 people.[citation needed]The series was first developed by
Claudia Lloyd
, head of animation at Tiger Aspect, while travelling through Africa. The first three episodes premiered on the BBC website in early February 2010. The distribution rights have been bought by Entertainment Rights.[1]Edward Saidi Tingatinga who started to paint in 1968 and later accepted 6 relatives as apprentices. After his sudden death in 1972 in 1976 followers of E.S. Tingatinga registered the "Tingatinga Paintings Partnership" in Dar-Es-Salaam, Tanzania. Till today this organization can be found at BRELA, the Tanzanian Business Registration and Licensing Agency [1]. The successor of this organization of some painters is the Tingatinga Arts Cooperative Society (TACS).
Recent Activity
List of Characters (Tvo Kids and BBC CBeebies channel Version)
Eugine Muchiri as Red Monkey
Lenny Henry as Elephant/Buffalo
Patrice Naiambana as Lion
Shaun Parkes as Tortoise
Johnnie Fiori as Hippo
Tameka Empson as Tickbird
Ben Spybey as Orange Monkey
Faraaz Meghani as Yellow Monkey
Prince Abura as Bat
Wakanyote Njuguna as Frog
Kennie Andrews as Warthog
Catherine Wambua as Porcupine
Edward Kwach as Crocodile
Patrich Kayeki as Chameleon
Miriam Margolyes as Giraffe/Squirrel
Junior Simpsons as Lizard
Ninia Benjamin as Eagle/Mosquito
Bhumi Patel as Bushbaby
Angelina Koinange (First appearance)/Sophie Okonedo (Second appearance)as Cheetah
Johnny Daukes as Snake/Aardvark/Puff Adder
Terence Reis as Jackal/Crab/Rhinoceros/Ants//The Wind/Wildebeest
Akiya Henry as Caterpillar/Butterfly/Flea/Woodpecker
Flaminia Cinque as Flamingo
Janet Suzman as Ostrich
Paul Shearer as Camel
Achieng Abura as Crow
Corine Onyango as Dragonfly
Dona Croll as Leopard
Stephen K Amos as Hyena/Millipede
Maureen Lipman as Hummingbird
Anton Rice as Baboon
Cyril Nri as Peacock
Meera Syal as Owl
Jocelyn Jee Esien as Spider
Ruth Madoc as Whale
Rosemary Leach as Guinea Fowl
Sohine Thompson as Mole
Morwenna Banks as Meerkat
Lindiwe Brown Mkhize as Hen
Claudia Lloyd as Impala/Bees/Fishes
Derek Griffiths as Head Cricket/Skunk
Penleope Keith as Queen Bee
Peter King as Chief Ant
Eric Wainaina as Lieutenant
Tracy Rabar, Mikayla Odera, Cullie Ruto as Cheetah Cubs
Atemi Oyungu, Muthoni Mburu as Tinga Birds
Colin McFarlane as Majitu the Giant
Nonso Anozie as the Sleeping Stones